Love Your Shade
Just because your property is shady doesn't mean you have to give up on having a beautiful garden. Using a few simple tricks, we can help you transform any dim spot into the highlight of your garden with these bright ideas.
Most of us aren't fortunate enough to have a full day's worth of sun in our gardens, yet even the most experienced among us is still a little intimidated by shady areas. They're often uncharted territory; the last place you want to plant because you're not even sure what will grow there. But there are plenty of options that a successful shade garden starts with good plant choices.
When you begin exploring your plant options, you'll discover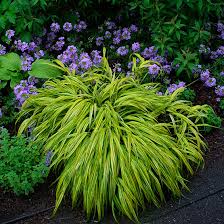 a plethora of textures, shapes, sizes, and colors to help you play up the qualities of each plant. Next, become aware of haw the plant combinations work in relation to the scale of their environment, how they create focal interest, and how they draw the eye from one successful combination to the next. You're striving to create individual combinations that add interest and fend off the monotony of hosta, hosta, hosta. But you're also trying to create combos that contribute and connect to the overall landscape.
A Little Color Goes a Long Way
What's the first thing that comes to mind when you think of a shade garden? Probably not color. When color is used, however, a little bit can make an impact. In the combination shown in the photo below 'Red Ruffles' coleus adds a splash of rich color that ties the combo to the warm, reddish tones of the stone path and  burgundy Japanese maple in the background. The 'Aureola' Japanese forest grass creates a focal point and complement the deep color of the coleus. Although hostas are often seen going solo in a shade garden, they look best when paired with other plants. When you are adding color, don't think of the color in isolation.